Last Step Before Opening Preorders
We're closer than ever to opening preorders for the ADV1
We're so excited to share that we've solved one of the last hurdles in bringing the Pasq ADV1 to you. After listening to your feedback and rethinking nearly everything, we've developed a new hinge design that provides amazing stability for the ADV1 at speed.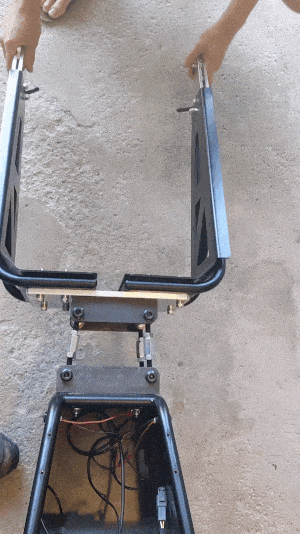 More stability.
More power.
Our patent pending trapezoidal design for 2-wheeled vehicles allows the ADV1 to essentially lock in place when you're at speed and leaning to steer. Once you're over about 20 mph, instead of a 2-wheeled motorcycle pulling a 1-wheeled trailer, the two machines become one 3-wheeled vehicle that is stunningly stable. However, when you're steering with your handlebars (taking a corner or maneuvering in a parking lot), the hinge swings freely and allows you to maneuver and control your bike as you would without a trailer.
The final hinge will look very different from the proof of concept you see to the left, and it will have a larger range of motion. But, we had to prove it would work, and Luke (our engineer) figured out this very fast, easy way to do it!
Changing the ADV market
We had someone comment on one of your YouTube videos that the ADV1 was "complicated." I replied that another way to phrase it is that the ADV1 is "sophisticated." It's a little like comparing the 1964 327 small-block Chevy Impala I had in high school to a Tesla Model S or even a Toyota Camry. The Chevy was a hell of a car, but it isn't even in the same league of function and refinement. We could have made a simple trailer, but our goal was to make the absolute best, most sophisticated trailer possible for the ADV market. And that's what we're doing! No corners cut. The best technology available. More options, so you can explore more.
THIS WEEKEND
See the hinge (and more) at the BMW MOA Rally
June 16th-18th, 2022 in Springfield, MO
At last year's BMW MOA Rally, we introduced Pasq's first trailer prototype. With the 2022 Rally starting tomorrow, we're looking forward to bringing the newest ADV1 to you!
Stop by the Pasq booth for a chance to see the ADV1 (and new hinge), pick up some Pasq gear, and get the latest info on upcoming events, pre-sales, and more.
Not registered yet? There's still time! Get BMW MOA Tickets.
See you on the road,
The Pasq Team