Pasq Trailers and License Plates
A common question we are asked is, will Pasq motorcycle trailers need to be licensed? Does a small motorcycle trailer need a license plate? As with many regulations in the USA, the answer is, "It depends on your state's laws."
For example, a license plate is required in Pasq's home state, Illinois. From our quick look at a few state laws, most states are going to require a license plate. However, there are a few, such as Alabama, where it appears a license plate will not be necessary. Here's a website that did the research for boat trailers. It will at least give you an idea of where your state stands. However, to know the complete answer you will need to research your state's licensing laws (this website may help with that).
For those who do need a license plate,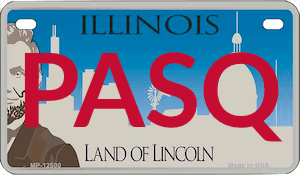 Pasq has you covered.
Getting a Title & License Plate—You Need an MCO/MSO
Your Pasq trailer will come with a Manufacturer's Certificate of Origin (MCO). Some states call this document a Manufacturer's Statement of Origin (MSO). This document will certify that you are the first owner of your Pasq trailer and will be the information you need for your local DMV to issue both a title and registration/license plate. Your MCO will look very much like the sample below, but will be filled out and signed.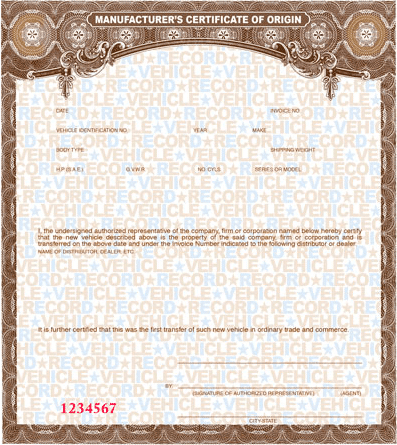 VINs Are The Key
One of the requirements to be able to issue MCOs is that the trailer have a permanent Vehicle Identification Number (VIN) permanently affixed. Pasq has gone through the mountains of paperwork to be able to issue a unique VIN on each trailer. Each trailer will have an id that is 17 characters long. When that number is entered into NHTSA's decoding system, it will verify that the VIN is well formatted and legitimate. It will also tell you that the trailer was manufactured by Pasq at our Chicago location.
The 17 characters each play a role in identifying the trailer, but the last 3 places are the sequential numbers that tell you which number of trailer you have for the model year. If your VIN ends in 045, you have the 45th trailer from that year. How do you know what year the trailer was manufactured? We had to make up a system and submit it to NHTSA. Our system is fairly standard; in the 10th position of the VIN you will find a letter or a number which will tell you which year the trailer was manufactured. Pasq's VIN production year system is:
2022 = N
2023 = P
2024 = R
2025 = S
2026 = T
2027 = V
2028 = W
2029 = X
2030 = Y
2031 = 1
2032 = 2
2033 = 3
2034 = 4
2035 = 5
2036 = 6
2037 = 7
2038 = 8
2039 = 9
2040 = A
2042 = C
2043 = D
2044 = E
2045 = F
2046 = G
2047 = H
2048 = J
2049 = K
2050 = L
2051 = M
2052 = N
2053 = P
<repeat>
Pasq's Key to Manufactured Years in Our VINs
VIN Example
Your Pasq trailer VIN looks like this:
1 2 3 4 5 6 7 8 9 P11 12 13 14 0 4 5
The above tells you that the "P" in the 10th character means your trailer was made in 2023. The last three characters show that your trailer was the 45th to be made in 2023. (2023 is our first production year—there are a few 2022 trailers, which are our first prototypes.)
Outside the USA
We are still doing our research on this. We believe our MCO will work in other countries, but we aren't sure. Our VIN numbers follow global standards, which means they include our World Manufacturers Identifier (WMI) coded into the 17 characters. That should mean the MCO should be accepted globally.
One other challenge for us is to make space for the larger plates that are found around the world. We are still working on that!
If you have any further information on trailer registration around the world please contact us!