The ADV1 Wins A "Best of Show" from Overland Expo West 2023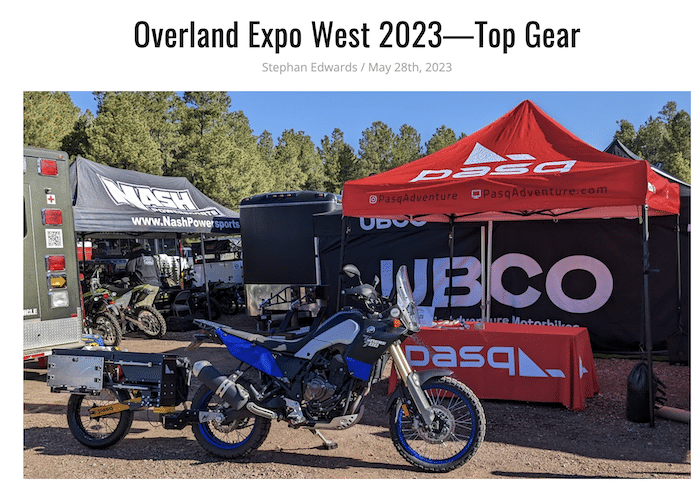 The editorial staff at Overland Journal, and their online-version at Expedition Portal, scoured the rows and rows of vendors at annual event, Overland Expo West (the largest, by far, overland event in the US). They were looking for exciting and new products. And, they found Pasq and the ADV1!
The ADV1 is listed in their "Top Gear of 2023" article. And of note, the ADV1 is the only moto product that made the cut!
The ADV1 – "Top Gear" for 2023
As Stephan Edwards said in his opening sentence, the sight of the ADV1 stopped him in his tracks. I was there and it's true! It was still early on Sunday morning and the crowds we'd see later in the day had not materialized yet. I saw a guy quickly walking down the aisle in front of our booth—he had places to go. He looked at the ADV1 out of the corner of his eye, walked a bit further, stopped quickly as if it finally dawned on him what he saw…spun around, looked at the ADV1, and said, "WOW! tell me about this!"
He'd never seen anything like it. There's a simple explanation for that—there has never been a trailer like the ADV1. The ADV1 is the only single-wheel trailer in the world made exclusively to do everything an ADV bike will do. It'll cruise down the highway or expressway at speed, and then follow you without a hitch as you turn off onto a logging road or BDR in search of adventure.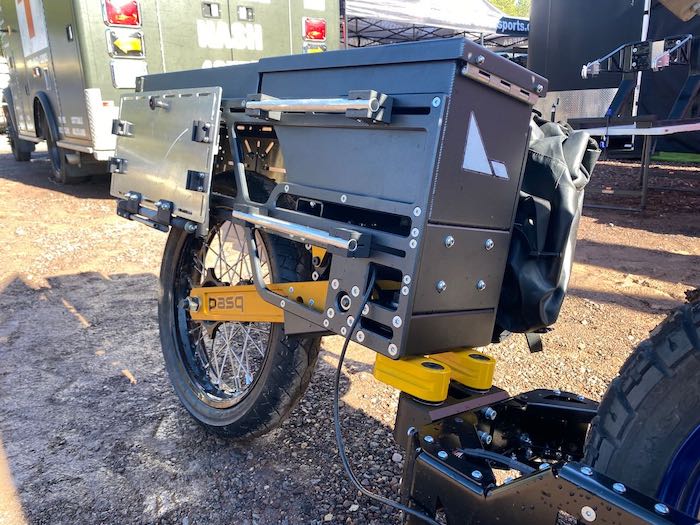 He was clearly impressed with the design, engineering, and the build. He wrote, "Lithe, compact, ruggedly built…the ADV1 looked like it was halfway through a Backcountry Discovery Route, just standing still."
As I explained our trapezoid hinge to Stephan, it was easy to see he was impressed and understood its function and impact. He wrote in the article, "…featuring a virtual pivot point and trapezoidal multi-axis hitch system…" which is about a succinct a description as is possible. The hinge, through "science" (geometry and physics), locks when it's pulled straight, or through turns where leaning is the means of negotiating a curve. That means you're a three-wheeled, inline vehicle that is perfectly stable. This allows the ADV1 to remain completely stable, without any wobbles, as the trailer and bike haul down the highway. But, the hinge pivots as you would expect when the rider is doing slow speed maneuvers and steering with the handlebars.
The ADV1 Might Change Minds about Moto trailers
Stephan ended his short post about the ADV1 by saying, "The debate over the benefits of trailering continues to rage in the 4WD overland community, but it's rarely discussed in the adventure moto world. Pasq's little tag-along might just change that."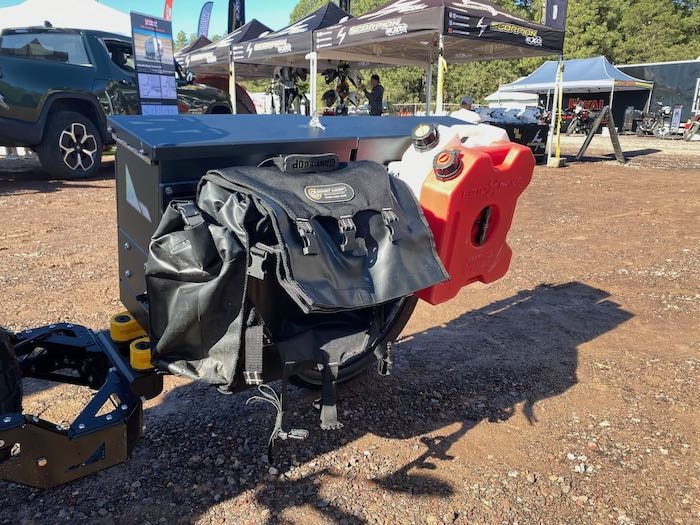 We think it will!